【NOTICE】

Same day pick up available by phone order
Daruma Sushi Botany :
09-265-0603

Please bookmark or take a screenshot Order Number #,
we may ask you about the "Order Number #" when you pick up your order.
Please note your order is not confirmed until you have received the confirmation from us.
【OPENING HOUR】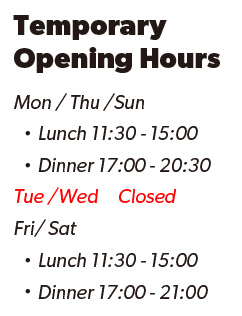 ■ MON - FRI
Lunch 11:30-15:00 (L.O 14:30)
Dinner 17:00-21:00 (L.O 20:30)
■ SAT - SUN
10:30-21:00 (L.O 20:30)
Open 7 Days
Public Holidays OPEN

■ CLOSE THESE PUBLIC HOLIDAYS
25th Dec 2021 - 3rd Jan 2022

Web Order on Public Holidays
Please call to our shop directly.
10% surcharge applies.
【ACCESS】
451J Ti Rakau Drive
East Tamaki, Auckland
09-265-0603